Timetable
Saturday

Members only
Sundays and holidays
Open From 11:00 to 13:00 hours.
Departures every 15/20 minutes
Trip : 3,1 km
Duration : 20 minutes aprox..
We may close earlier depending on passenger and member turnout.
Ticket office closes at 13:00
Last train at 13:00
The participation of the public in the "role" of passengers is subject to the Association's rules and there is not obligation or commitment involved.
Closed for holidays July and August.
We also closed for End of the Year, San Juan, 11th of September, Christmas, Saint Stephen and 6th of January
NOTICE
Steam locomotive trips
Runs 3th Sunday of each month (not guaranteed)
It runs only from October to May
Steam traction trains run on coal, thus trips can be cancelled due to droughts.
These locomotives throw soot and waste that can stain and even burn clothing!
Passengers board under their own personal responsibility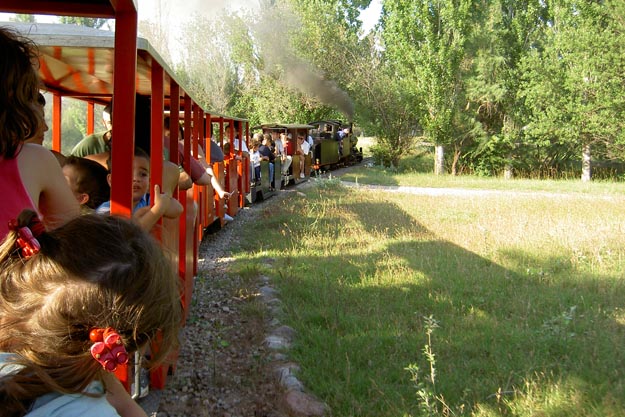 Passenger rules
1 - It is not allowed to board or leave the train until it completely halts.
2 - Passengers should not stand up, put their hands or feet out of the coach during the trip. Whoever breaks these rules can be sanctioned by making them leave the train in any part of the trip.
3 - 7 year olds and below cannot travel alone. They have to be accompanied by an adult who takes care and responsibility of the child's actions.
4 - Passengers board the train under their own responsibility, we will not accept complaints about damages or nuisances..
5 - The Train's purpose is exclusively cultural, recreational and nonprofit. All contributions are used entirely and only for manufacturing, workings and preservation of the railway.
6 - 
Minors that don't need a seat and people above 90 years old are special guest of the Association.
7 - The members that participate in any railroad tasks do it because it's their hobby and they're not municipal employees.
go up --->>
13-10-2021